Search engine optimization (SEO) has become essential to any successful online business in the ever-evolving digital landscape. As an SEO agency or a business looking to boost its online presence, choosing the right SEO strategy can make all the difference.
This comprehensive guide will explore the differences between Local SEO vs International SEO, highlighting the distinct steps required to rank high on Google. So, let's dive in and help you determine the best strategy for your unique business needs.
Understanding Local SEO
What is Local SEO?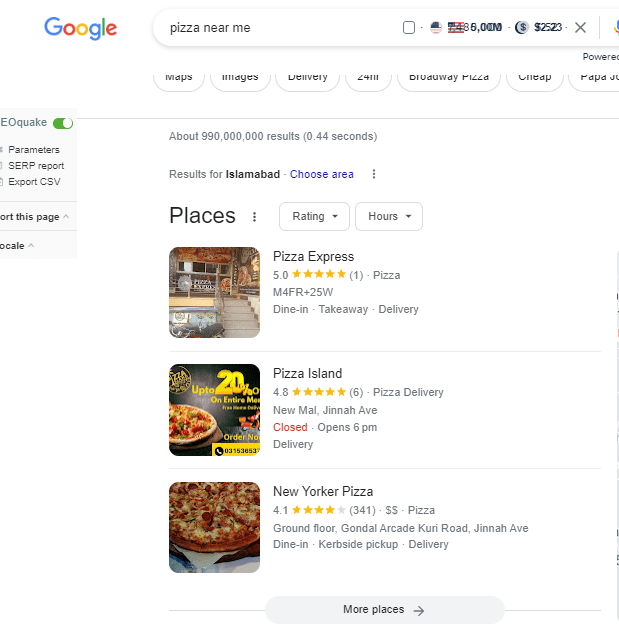 Local SEO focuses on optimizing your online presence to attract more customers from your local area. Local SEO is crucial for driving organic traffic and local visibility if your business has a physical location or serves specific geographic locations.
Steps to Achieve Local SEO Success
1. Google My Business (GMB) Optimization
To kickstart your Local SEO efforts:
Claim and optimize your Google My Business listing.
Ensure that all relevant information, such as your business name, address, phone number, website, and business hours, is accurate and up-to-date.
Encourage customers to leave positive reviews, which can significantly impact your local rankings.
2. Local Keyword Research
Identify relevant keywords with local intent that align with your business offerings. Use tools like SEMrush, Moz Bar, and Ahref. The best keyword research tool from SEO experts is Keyword Surfer. Remember that SEMrush keyword difficulty sections are not to be corrected. For determining keyword difficulties, use Moz Bar. Moz Bar Keyword difficulty analysis is more accurate as compared to SEMrush.
3. On-Page SEO
Optimize your website's content with localized keywords. Create location-specific landing pages, and consistently include NAP (Name, Address, Phone Number) information across your site.
4. Local Citations and Backlinks
Obtain high-quality backlinks from local websites, directories, and industry-specific platforms. Consistent NAP information across these platforms will boost your local credibility and, as well as your along with your brand, will increase your global credibility. Relevant backlinks are very important for boosting website traffic both locally and internationally.
5. Online Reviews and Reputation Management
Positive online ratings and reviews are significant in Local SEO and global SEO on search engine rankings. It encourages satisfied customers to leave reviews on platforms like Google, Yelp, or Facebook. Address negative reviews promptly and professionally to maintain a positive reputation.
Decoding International SEO
What is International SEO?
On the other hand, International SEO occurs to expand your online presence and reach customers beyond your local boundaries. It involves optimizing your website to rank well in various countries and languages.
Steps to Achieve International SEO or Global SEO Success
1. Define Your Target Countries and Languages
Understand the countries and languages you want to target. Conduct thorough market research to identify regions with potential demand for your products or services.
2. Use Hreflang Tags
Implement hreflang tags to indicate to search engines which region language and country version of your website pages should be displayed to users. It helps search engines present the most relevant version of your content to users from different regions. Understand the countries and languages you want to target. Conduct thorough market research to identify areas with potential demand for your products or services.
3. Create Multilingual Content
Translate your content accurately and professionally into the targeted languages. Avoid using automated translation tools, which may produce inaccurate or awkward translations.
4. Choose the Right Domain Structure
Use country code top-level domains (ccTLDs), subdomains, or subdirectories for your international website. Each option has advantages and disadvantages, so choose the one that best aligns with your goals and resources.
5. Focus on Localized Link Building
Like in Local SEO, backlinks from reputable international and global target websites are essential for improving rankings. Build relationships with global influencers and industry leaders to gain quality backlinks.
Which Strategy is Right for Your Business?
Determining the appropriate SEO approach depends on several factors unique to your business. Let's explore scenarios in which Local SEO or International SEO is the best fit:
Local SEO is Ideal When:
Your business operates in a specific geographic area.
You offer products or services catering to local customers.
Foot traffic and in-store visits are essential for your business growth.
International SEO or Global SEO is Ideal When:
Your products or services have global appeal.
There is demand for your offerings in various countries and languages.
You have the resources to handle international shipping or services.
Combining Local and International SEO
Sometimes, businesses may benefit from implementing Local and International SEO strategies simultaneously. This approach is convenient for companies with local physical locations and a strong global online presence.
By combining the two strategies, businesses can attract local customers while expanding their reach to international markets. However, striking the right balance and avoiding conflicts between the two strategies is crucial.
Difference Between Local and International SEO
Search Engine Optimization (SEO) encompasses Local SEO and International SEO, two different strategies aimed at improving the visibility of websites in search engine results. Below are the key differences between them:
Target Audience: Local SEO targets a specific geographic area, while International SEO targets customers in multiple countries or regions.
Language: International SEO requires optimization for multiple languages, considering cultural differences and, different search engine algorithms and ranking factors.
Keyword Research: Local SEO uses keywords relevant to a specific location, while International SEO uses keywords relevant to a broad audience.
Content: Local SEO content is typically more specific to a specific location, while International SEO content is generally more general.
Link Building: Local SEO backlinks are typically from websites with a local audience, while International SEO backlinks generally are from websites with a global audience.
Now, let's look at some statistics related to Local and International SEO:
Local SEO Statistics
Nearly 46% of all Google searches are looking for local information.
72% of buyers who used a local search engine went to a store five miles from their destination.
97% of consumers discover local businesses online before any other source.
On smartphones, 18% of local searches result in a purchase within a day.
International SEO Statistics:
Google uses over 200 factors in its algorithm for ranking websites.
The result in Google gets approximately 32% of all clicks.
90.63% of pages get no organic search traffic from Google
The top-ranking page receives the most search traffic only 49% of the time.
These differences and statistics highlight the importance of using the right strategy based on your business's target audience and goals.
How do local and international SEO help your business?
Local SEO and international SEO have different purposes, but these both will enormously boost your business's online presence and reach.
How will Local SEO help in boosting businesses?
Optimizing your online presence to attract local clients is the primary goal of local SEO. For companies that primarily serve a specific region, this is essential. Let's take an example where you run a small bakery in New York City. Your bakery's chances of showing up in local search results might be increased by applying local SEO strategies, such as setting up a Google My Business profile, optimizing your website with local keywords (such as "best cupcakes in NYC"), and getting positive local reviews. It makes your company more visible to local customers and encourages them to choose your company's products or services over rivals.
How will international SEO help in boosting businesses?
However, international SEO aims to connect with a global audience. It becomes essential to optimize for a broader demographic if your organization does business internationally. Think of a business that distributes handmade furniture created by hand worldwide. The furniture company may increase its exposure in search results across several nations by implementing international SEO strategies, such as improving content for different regions, considering cultural subtleties when choosing keywords, and using hreflang tags to indicate language and regional targeting. As a result, the company will quickly establish connections with a wide variety of customers around the world.
Conclusion
Whether you focus on Local SEO, Global SEO, or both, remember that quality content, relevant keywords, and backlink building are crucial for ranking high on Google. Following the steps outlined in this guide can pave the way for your website's success in the competitive digital landscape.
So, take charge of your SEO journey today and watch your online presence soar to new heights.
Summary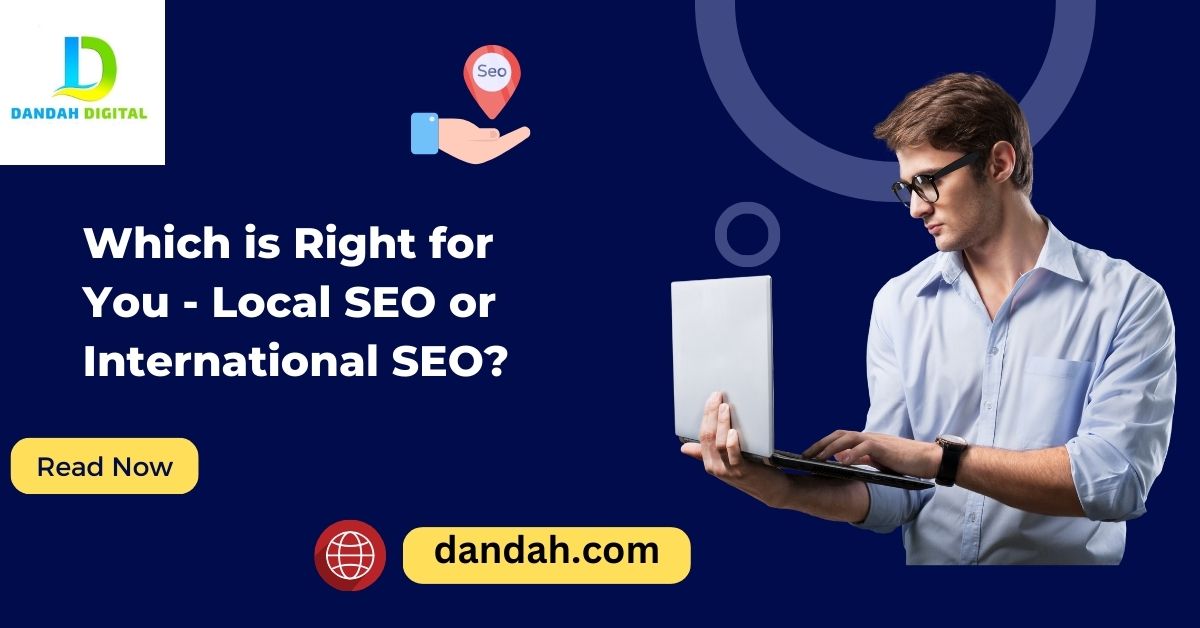 Article Name
Which is Right for You - Local SEO or International SEO?
Description
This blog article revealed Which is Right for Your Website - Local SEO or International SEO? How to do local SEO or international SEO
Author
Danish Ashraf
Publisher Name
Dandah Digital
Publisher Logo