Every year, the number of email users grows at an astonishing rate. Around 306 billion e-mails were sent and received every day in 2020. This amount is predicted to exceed 376 billion daily e-mails by 2025. Apart from the fact that email is still one of the most common ways of business communication, these data indicate that email marketing is still a very effective if not essential technique of reaching out to potential clients. So competent and professional email marketing service gives high ROI in this global digital online world.
The world's first e-mail was sent in the 1970s, enabling a new era of communication and marketing. The number of E-mail has users grown into a vital digital marketing format for organizations all over the world as the number of e-mail users continues to rise year after year. In a 2020 poll of marketers throughout the world, it was discovered that for every dollar spent on email marketing, firms made 36 dollars. The retail, internet, and consumer goods businesses had the highest return on investment (ROI), with 45 dollars for every dollar spent on email campaign.
What is Email Marketing?
Email marketing is a technique for updating your email list about new goods, promotions, and other services. It might also be a gentler pitch to inform any corporate audience about the brand's value or keep them interested in the meantime.
Remember that we are visitors in another mailbox as a guest.
Interruptions, pitches, and advertising are continuously being thrown at people.
Even if you think your email is one-of-a-kind. From the viewpoint of the reader, your email is a one-in-a-million—and not in a good way.
This is why it's so important to stay on track and be nice.
When you open someone's email, it's like being invited to dinner. You do it graciously if they ask you to take off your shoes.
It's the same with email marketing, so before we get started, remember that you're a guest in their inbox.
Let's speak about how to start from scratch with your email marketing approach.
What's the Best Email Marketing Strategy?
An email marketing strategy is a set of activities that a marketer creates and uses to achieve certain marketing goals using email marketing. This technique gives businesses a direct channel of communication with prospects and customers, allowing them to promote their brands.
Why is having an email marketing plan so important?
The plan is necessary for a variety of reasons for any business campaign strategy. The following are the most essential and notable them are discussed in detail below:
The Business Plan of Email Marketing Campaign:
Marketers may plan out their email advertising procedure ahead of time if they have an email marketing strategy in place. As a consequence, other corporate stakeholders will be aware of what they need to do at any given time, ensuring that an email campaign is launched in sync.
A corporation may plan when to send time-based promotions or non-promotional emails using an email marketing strategy. Time-based promotions are emails with time-sensitive messaging that push readers to take action, such as purchasing a reduced item, enrolling in a new class, or making an appointment. For these initiatives, marketers may choose to send a three-part marketing email series, comprising an announcement (preferably two weeks ahead of time), a reminder (1 week before the event), and a last-minute reminder (1 or 2 days before the event.)
Emails that aren't promotional are less timely and less sales-oriented. They are mostly used to build relationships with consumers and provide value. Non-promotional emails, in contrast to promotional emails, which tend to increase sales, allow marketers to understand their subscribers' interests, which aids in mailing list segmentation. As a result, they'll be able to send more targeted communications to prospects and customers, which will help them nurture and improve their connections.
Calculate your Outcomes Campaign Results:
The email marketing plan outlines a company's whole set of goals. To provide a sense of direction when initiating an email campaign, a company must first define marketing goals. Apart from that, email marketing strategies enable businesses to evaluate the effectiveness of their email campaigns.
Select the most Effective Strategies:
In this sense, tactics relate to the techniques and tips that a marketer does to push their plan and, as a result, accomplish the desired results. "Start a cart abandonment program to reduce the number of lost sales," is an example of a method.
07 Strategy You Can Use to Improve Any Email Marketing Campaign:
Make it Personal, but Keep Your Boundaries in Mind:

Personalized emails have proven to be a successful promotional strategy. According to research by OxiMedia, compared to non-personalized email campaigns, personalized ones have 29% higher REPUBLICATION RATES. The benefits even go further. An Epson research states that 80% of the customers are more likely to purchase from a brand that provides a personalized experience.

Given the fact that over 306 billion emails are sent every day, it's unavoidable to pose the issue. How can you make your business stand out in a sea of emails and increase revenue by increasing open and click-through rates?

This is where having the correct customer data may be quite beneficial. The use of generic user data, such as birth dates, is another personalization method.

Birthday emails produce 342% more conversion along with revenue per email, 179% higher unique click rates, and 481 percent higher transaction rates than advertising emails, according to an Experian study. Isn't this a compelling incentive to incorporate personalized emails into your email marketing strategies?

The idea behind personalization is to make each email message a little different if you have the capability. There are several ways to do this and we'll discuss a few of them here, but first let's cover some basics.

Keep Your Subject Lines to a Limit:

Only 47% of email recipients open messages based on the subject line, while customized messages are 22% more likely to be opened. This demonstrates how crucial subject lines are to the success of any email marketing strategy. Statistics suggest that it's not just the content that has to be considered, but also the number of characters used. Email subject lines containing six to ten words had the highest open rate. Another fact that works in your favor are that subject lines that convey a sense of urgency or exclusivity has a 22 percent greater open rate.

Email marketing is a proven way to acquire new customers and drive sales. But, crafting the perfect subject line that captures your audience's attention can be difficult—especially when you're sending to huge lists. That's why Mailchimp created the Subject Line Helper. It helps us craft catchy, click-worthy subject lines for our email campaigns. And it can do the same for you. Anyone can use Mailchimp Subject Line Helper free of cost.

Hostinger-Subject-Line-Example

Choose the Best Time to Send Emails:

Timing is crucial when it comes to the success rate of your email marketing. Because you're undoubtedly aiming for a greater open and click-through rate, choosing the proper time is crucial. Another reason is that your frequent visitors may want to engage with your content (share with friends or on social media, etc.).

MailerLite timing feature allows you to pinpoint the most effective and profitable working hours based on real-time statistics. You can decide when to send your email campaign to increase the number of opens and clicks on the links.

Marketing automation can make a world of a difference for your business if done correctly. One of the first steps in effective email marketing is timing. The majority of businesses (51%) are currently using automation in some capacity to increase their revenue generation and sales. Knowing the best times to send messages to your contacts is the only way to ensure that you're sending emails at optimum times.

Several tools can help you maximize email marketing automation, and integrate Artificial Intelligence (AI) into your strategy. While they may vary in their approach, they all connect to your email service provider to monitor user actions and deliver personalized emails at the right time.

Distribute Freebies:

Promotional giveaways can help increase your income. Giving away a freebie has been proven to increase the number of subscribers by up to 66%, and click-through rates as high as 66%. Freebies such as templates, graphics, and tools are the most popular with a 26% to 66% click-through rate. We've put together some helpful tips on creating a successful promotion campaign in today's blog post.

Offer-a-Free-Trial-or-Freemium-Product

However, as much as you want your email list to expand, there are some restrictions to obey, and we're referring to the CAN-SPAM Act (Controlling the Assault of Non-Solicited Pornography and Marketing Act). According to the CAN-SPAM Act, every email sent out must include a relevant subject line, your commercial email address at the bottom, and an unsubscribe button — no exceptions.

Keeping your subscribers happy is a top priority for all businesses. But with all of these regulations, it's hard to know exactly what you can and cannot do with your email list. Make the most out of your email marketing strategy by keeping these insider tips in mind, avoiding the dreaded penalties and negative publicity down the road, and also keep the unsubscribe button in your email campaign.

Send Emails That Are Mobile-Friendly:

Create an email that looks great, everywhere. Preview designs on desktop and mobile devices while you're creating them. Your subscribers will see exactly what you created, from the moment they open it up on their smartphone.

Here are some basic design recommendations to assist your marketing approach to avoid your subscribers' dislikes.

Make emails with only one column.
Important text should be centered.
Have a call-to-action button that is simple to press.
Increase the text size.
Showcase tiny images

According to reports, 80% of all Internet users own a mobile device. That's why you should never leave your email marketing strategy without a mobile-friendly design. Regardless of where subscribers check their email, make sure to always send emails that will be of high-quality. Also try to use best email marketing freemium and premium tools for maximum conversion and high sales.

Segment all Your Subscribers
Segment your email lists to speak more directly and intelligently to your readers. Give them the right information at the right moment. Make sure you do it right, and this will be rewarding to read and act upon. Optimove did research about the power of segmentation for marketing campaigns, and they found out that target groups had an uplift of $1.90 per customer with up to 150 members and up to $0.90 when they had 1,500+ members. This showed that the smaller the group, the bigger the range of possible campaign outcomes.
As per Lyris's email marketing reports Email segmentation is the process of dividing your email lists into specific segments of contacts, who have similar needs and interests. Breaking up your lists into separate audiences or "buckets" allows you to send targeted content to each group, increasing your engagement. Improving this process can not only help sales but also deliver a better overall customer experience
Here are a few quick and simple segmentation tactics to assist you in the process
Segmentation on Interests: One of the most straightforward ways of segmenting your list is to segment based on the interests of your consumers. If you are a clothing retailer, for example, you could create a profile for people who have purchased sportswear and another profile for people who have purchased footwear. This will help you to create targeted marketing campaigns as well as create emails that are much more relevant.
Segmentation on Email Engagement: is a critical component when planning an email campaign. It allows you to create a hyper-targeted, highly personal approach that increases the effectiveness of your email marketing efforts. If this is something you have yet to do, or perhaps, have always wanted to do, Contact us and let us help you with your segmentation needs.
Segmentation on Past Purchase: is nothing new, but if you don't use this strategy, you may be leaving money on the table. The easiest way to implement this method is by setting up an auto-email marketing campaign that sends follow-ups to people who've bought a product similar to what your customer just purchased. If you pay attention to trends, then a lot of your sales and customer profiles will line up. For example, buying one high end TV translates into future purchases for a sound system or Blu-Ray player. Or perhaps once someone buys a vacuum cleaner, the need for vacuum bags or trash bags becomes apparent. Use those insights to send out targeted email messages to capitalize on the most likely scenarios.
Segmentation on the Position in the Sales Funnel: your users can be a valuable way to customize your email marketing messages. The point is that you can't target those users who are at the bottom of the sales funnel with the same messaging as those who are at the top. If they are at the bottom – a group of brand-new subscribers – you should send generalized messages offering a range of products or features. However, if they've already signed up and have already interacted with your content, you can use that information to determine what they're interested in and target them more specifically.
7. Re-engage with Inactive Customers
If you don't work hard to provide compelling and useful material, you'll lose around a quarter of your subscribers each year. Although email list degradation is unavoidable, it may be mitigated to some extent. So, how do you keep your subscribers engaged, or, to put it another way, how do you reactivate dormant customers?
To begin, you must first define what inactivity means to you:
What does being inactive means to you, and for what period of time? Maybe it's not receiving an email for three months in a row. Maybe it's having not opened or clicked on an email in 6 months. Or maybe it is turning off your devices for 9 months at a time.
In order to keep your subscriber base engaged, try to correlate your email marketing to your content publishing. Send relevant and frequency-based emails. If the subscriber has not engaged with you in a while, send them a nice "Hello" e-mail. Another good idea is adapting to the subscriber's habit – if they have not opened any of your last 10 emails, then maybe it is time for you to write something fresh.
If you feel like your email lists are starting to lose steam, or you're seeing a flat lining in conversion rates for your email marketing efforts, it may be time to get creative with your win-back strategy. Creative re-engagement campaigns provide that much-needed spark for your list—and lead to a boost in sales.
Re-engaging your email subscribers is more important than ever, especially when you consider the majority of email marketing revenue comes from only 27% of email addresses. The win-back campaigns are often not so easy. But keep in mind that companies that invest in re-engaging campaigns in their email marketing see a $28.50 return on each $1 spent. This means that getting back inactive subscribers is more cost-effective than acquiring new ones.
Clean up your email lists and let email unsubscribes decide whether they are still interested in reading from you. Many email marketers get stuck with subscribers who no longer want to receive their emails. We can help you clean your lists up, especially for an automated email marketing campaign that you set up with us.
Conclusion:
Email marketing is the most powerful way to find out what works best for your business. In this digital age, email marketing has become a speedy, relevant and cost efficient way of connecting with your existing and potential customers. Sending out emails to your mailing lists gives you the opportunity to communicate with more target audience.
Email marketing has a great ROI and a huge impact on sales, conversion rates, and customer loyalty. With this feature, you can build up your email database with the help of Optemine's A/B test module. It allows you to send different emails with almost the same content to small groups of your subscribers and see what works best. Optimize will help you make every email campaign better by analyzing your results and helping you choose the best option for future campaigns.
There are multiple possibilities that can lead to growth and success when it comes to email marketing. It is a great basis for creating well-planned strategies that can lead to higher sales – if executed correctly. Putting effort into communicating with your subscribers on their way of becoming loyal customers is what is going to put you in front over the competition.
Summary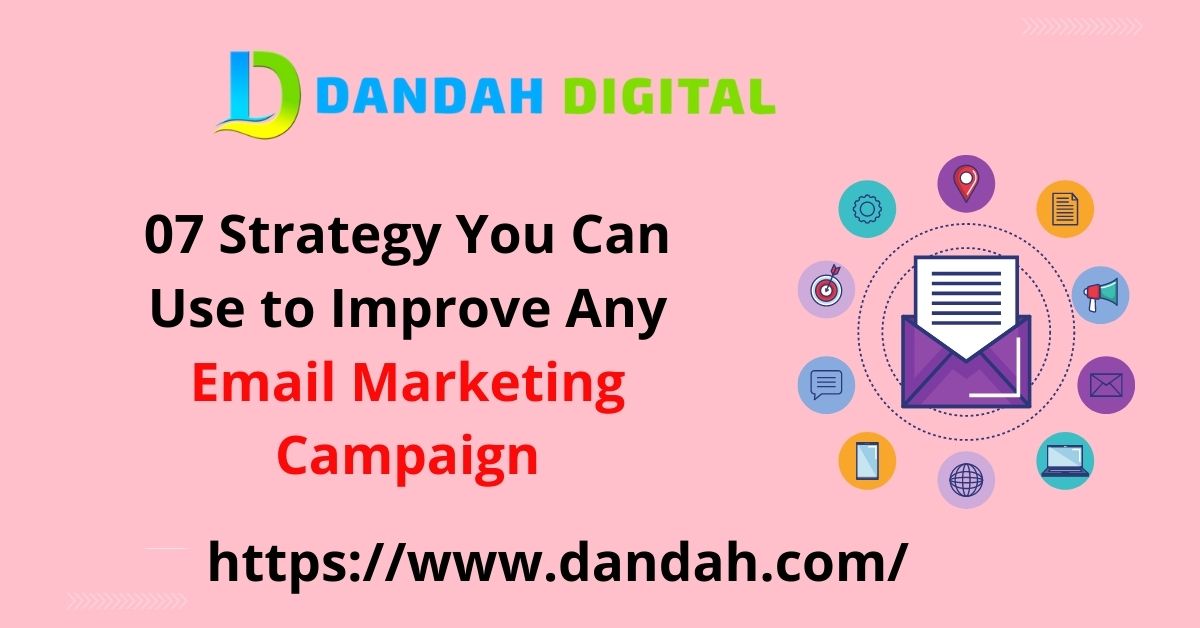 Article Name
07 Strategy You Can Use to Improve Any Email Marketing Campaign
Description
Article on 07 Strategy You Can Use to Improve Any Email Marketing Campaign
Author
Danish Ashraf
Publisher Name
Dandah Digital
Publisher Logo